Exuberance, Joy, and Home
The Beaverton Community Band (Martin Sobelman, Conductor) is pleased beyond measure to be able to hold its Fall Concert in-person on Sunday, November 28, 2021. The band has been preparing for our first concert since March 2020 and we are excited for you, our audience, to be able to hear the wonderful sounds of our band again. The selections for the concert will help us, during this time of COVID-19, celebrate a return to music making, to sharing our art with others, and to being together again.
The theme for the Fall concert is "Exuberance, Joy, and Home," featuring the music of Aaron Copland, David Maslanka, Adrian Hallam, Omar Thomas, Leonard Bernstein, Jay Dawson, and Randall Standridge. This is the first time for the Beaverton Community Band to perform in the Village Church Sanctuary and we are also excited to be able to use the same location as the Beaverton Symphony Orchestra.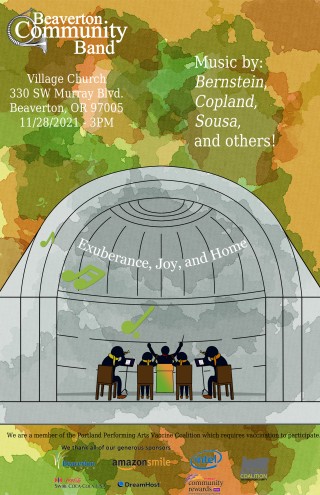 Date: Sunday, November 28th, 3:00 P.M. until 5:00 P.M.
Location: The Village Church, 330 SW Murray Boulevard, Beaverton, OR
Admission: Free. Proof of vaccination and/or a negative COVID-19 test within 72 hours will be required for all attendees. Please bring your vaccination cards.
Seating: Open seating with open rows identified.
Refreshments: Due to health requirements none will be offered at this time.
The Beaverton Community Band is a member of the Portland Performing Arts Vaccine Coalition in order to ensure appropriate health measures are observed for our audiences and members. For more information go to :