The Beaverton Community Band is an all-volunteer group of 60-75 adult musicians who share a love for concert band music and willingness to share their talents with the public. We believe that by offering life-long musical education, we can help to preserve the community concert band tradition in America.
Our mission is to engage audiences with diverse artistic performances, enlighten the community through music education, and enrich the lives of our members. We play a critical role in enhancing the quality of life for area residents as great band music is an essential element of a vibrant arts community.
Director
Martin Sobelman became director of the Beaverton Community Band in 2014, and, as part of the Band's Educational Outreach Program, he and other members assist primary and secondary music teachers in the Beaverton School District with one-to-one tutoring, small group music instruction, and performances for their students.
Mr. Sobelman has also been a member of the Northwest Wind Symphony since 2010 playing soprano, alto and bass clarinets. He was a Music Specialist for the Salem-Keizer School District, teaching elementary general music, elementary choirs, and elementary and secondary band, retiring in July 2012. Prior to that, he taught music at Napier Boys' High School in Napier, New Zealand for three years, and conducted the Napier Technical Memorial Band, a community group of musicians ranging in age from 15 to 80 years of age! He was the Choir Director of the Morningside United Methodist Church in Salem, Oregon from 2000-2008. He was a teacher of Instrumental and Vocal Music at Half Moon Bay High School, Woodside Elementary and High Schools in the San Francisco Bay Area for 9 years, and also taught music for 12 years in schools in Fresno and Madera Counties in California. He was very active in the Pacific Spindrift Players, and the Coastside Repertory theater groups as musical director and pit musician for many productions from 1988-1995
Mr. Sobelman earned an AB Degree from the University of California, Berkeley, completed graduate studies in Conducting at the University of California, Santa Barbara, and Orff Shulwerk Level I and II studies at the University of Memphis. He maintains a private studio for clarinet, saxophone and bassoon students, and is an active performer in chamber, orchestral, windband, big band, and theater music in the Pacific Northwest.
Mr. Sobelman resides in West Linn. He has the best wife, and between they are the proud parents of two wonderful sons and daughters and seven cool grandchildren!
History
The band was formally organized in 1978 under the direction of Lambert Morris, who was band director at Beaverton High School. However, the roots of the band can be traced to an earlier time, when interested musicians answered a recruitment ad in the paper and appeared for practice.
The City of Beaverton Mayor's Office has been a generous supporter of the band since its formal organization. With the help of Mayors Larry Cole through our current Mayor Lacey Beaty, the tradition of city band concerts in the park continues today.
Period
Director
2014-present
Martin Sobelman
2009-2014
Elizabeth Zinger
2005-2009
Dr. John K. Richards
2003-2005
Warren Baker
2003
Larry Erickson
Jerry McAlister
Steve Fleischmann
Richard Brown
1993-2002
Adair Hilligoss
1978-1982
Lambert Morris
Jerry McAlister
1991-1992
Dan Ogren
1990
Lambert Morris
David Matthys
1985-1989
Dan Ogren
1983-1984
Keith Eide
1978-1982
Lambert Morris
Repertoire
A variety of band literature, including marches, symphonic transcriptions, easy listening pops, swing, patriotic, and holiday tunes, is played at the weekly rehearsals and public performances. The group presents three seasonal public concerts, performs at retirement centers, and participates in the annual Oregon Adult Band Festival. During the summer, you'll often find the band at community events such as the Beaverton Farmer's Market, the City's Picnics in the Park and at concerts on the lawn of the Beaverton City Library
Community Outreach
Part of the Beaverton Community Band's mission is to "enlighten the community through music education". Towards this goal, the band and its members have volunteered their time and talents at a number of local schools, including:
Mountain View Middle School
Whitford Middle School
Beaverton High School
Cedar Mill Elementary School
Our group also supports the City of Beaverton and local community organizations. Including providing entertainment for: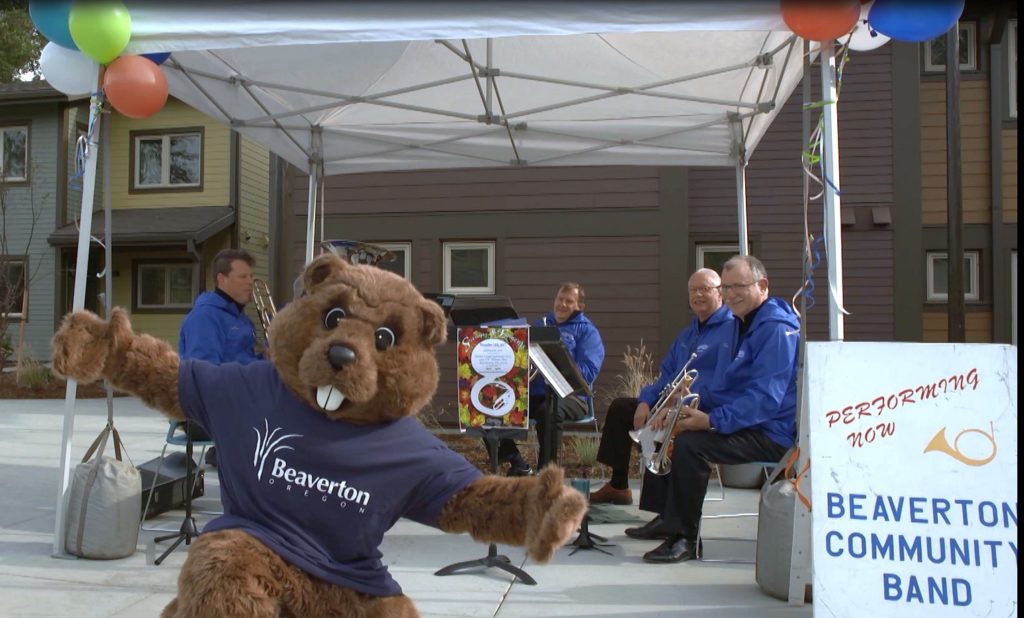 Providing entertainment at:
Beaverton Downtown Merchant Celebration
The Beaverton Community Band has also been the sponsor of the NW BandFest [formerly the Oregon Community Adult Band Festival], a yearly performance reunion where Community Bands from Oregon and Southwest Washington perform for the public and each other. The 2020 Festival was co-sponsored with the Rex Putnam High School Bands and held there on March 7th.