Dances and Fantasies Concert, June 10, 2018
The Beaverton Community Band will present its Spring 2018 Concert, "Dances and Fantasies," at 3:00 P.M. on Sunday June 10, 2018 at Bethel Congregational United Church of Christ, 5150 SW Watson Avenue, Beaverton, OR.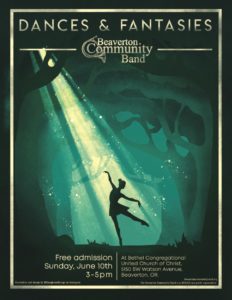 This concert's theme is a salute to the great composers that influenced Academy Award winning movies, famous Broadway composers, musical journeys of the world of dance. This program has something for the young and the not so young.
Our Theme, Dances and Fantasies, will take the listener to the sands of Arabia in the 1920s, to the Bush Country of Australia, to the Grand 19th Century palaces of Italy, to the Lothlorien Forest of Middle Earth, and to the lower east-side of New York City in the 1920s — 1950s.  We will, in addition, get your toes tapping and itching to dance with musical journeys to a Mexican Fiesta, to the choreography of Jerome Robbins in his premiere ballet Fancy Free accompanied by the  music of Leonard Bernstein.  We will tango and from Ecclesiastes III, A Time to Dance!
Sunday, June 10th, 3:00 P.M. until 5:00 P.M
Admission:  Free.  Donations will be accepted for the food ministries of the Bethel Congregational United Church of Christ.
The Beaverton Community Band has performed for the Beaverton community for over 30 years and is under the direction of Martin Sobelman. The Spring Concert is the final concert of the band's season, and will be followed by various summer engagements in the area.
The Beaverton Community Band's mission is to engage audiences with diverse artistic performances, enlighten the community through music education, and to enrich the lives of its members.  The band's members volunteer their time to support music educators throughout the Beaverton School District, to encourage beginning musicians to build a vibrant arts community.
Program:
Julie Giroux—A Time to Dance
Ennio Morricone—Deborah's Theme from Once  Upon a Time in America
Leonard Bernstein—Danzon from Fancy Free
George Gershwin—Second Prelude from 3  Preludes for Piano
Clifton Williams—Symphonic Dance #3 'Fiesta' 
Edward Fairlie—Death by Tango
Johan de Meij—The Lord of the Rings
Julies Fucik—Florentiner Grande Marcia Italiana
Bruce Rowland—The Man from Snowy River
Maurice Jarre—Lawrence of Arabia